Medical implant technology is an attractive and growing market, says Evonik. The company is conducting research on new composite materials - potential replacements for the metal that is currently used in implants - for the fixation of fractured bones.
Implants play a key role in supporting bones until they heal. Today's metallic devices typically remain in the body for the rest of the patient's life or require additional surgery for removal. Devices made with Evonik's new composites, on the other hand, are gradually absorbed by the body once the bone healing process has taken place.
These materials consist of polymers and of substances that naturally occur in bones. Evonik's research is still in its early stages – however, the possible benefits for patients are already clear. Patients will no longer need to undergo additional surgical procedures to remove the implanted devices. Specific device designs may also help bones regenerate faster.
Two step synthesis from lactic acid to polylactic acid is shown in the following figure taken from the online resources Chapter 12 of Biorefineries and Chemical Processes: Design, integration and sustainability analysis. Wiley, 2014.
.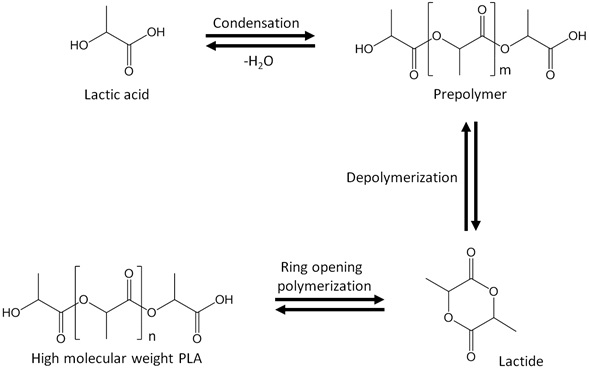 The polymers break down into carbon dioxide and water. Degradation time depends on their molecular composition, chain length, and crystallinity. They can last from a few weeks to many months – providing plenty of time for bones or other tissues to regenerate.
Medical device manufacturers use RESOMER polymers marketed by Evonik's Health Care Business Line to make bioabsorbable screws, pins and small plates. These are primarily used for torn ligaments in the knee or shoulder, and for fixation of smaller bones in fingers or the face.
More reading: http://www.bioplasticsmagazine.com/en/news/meldungen/20160705-Biocomposites-could-replace-metal-implants-says-Evonik.php
Categories: Research news, New publications, Other news