| | |
| --- | --- |
| Posted by The IBEST on 11 October, 2016 at 0:45 | |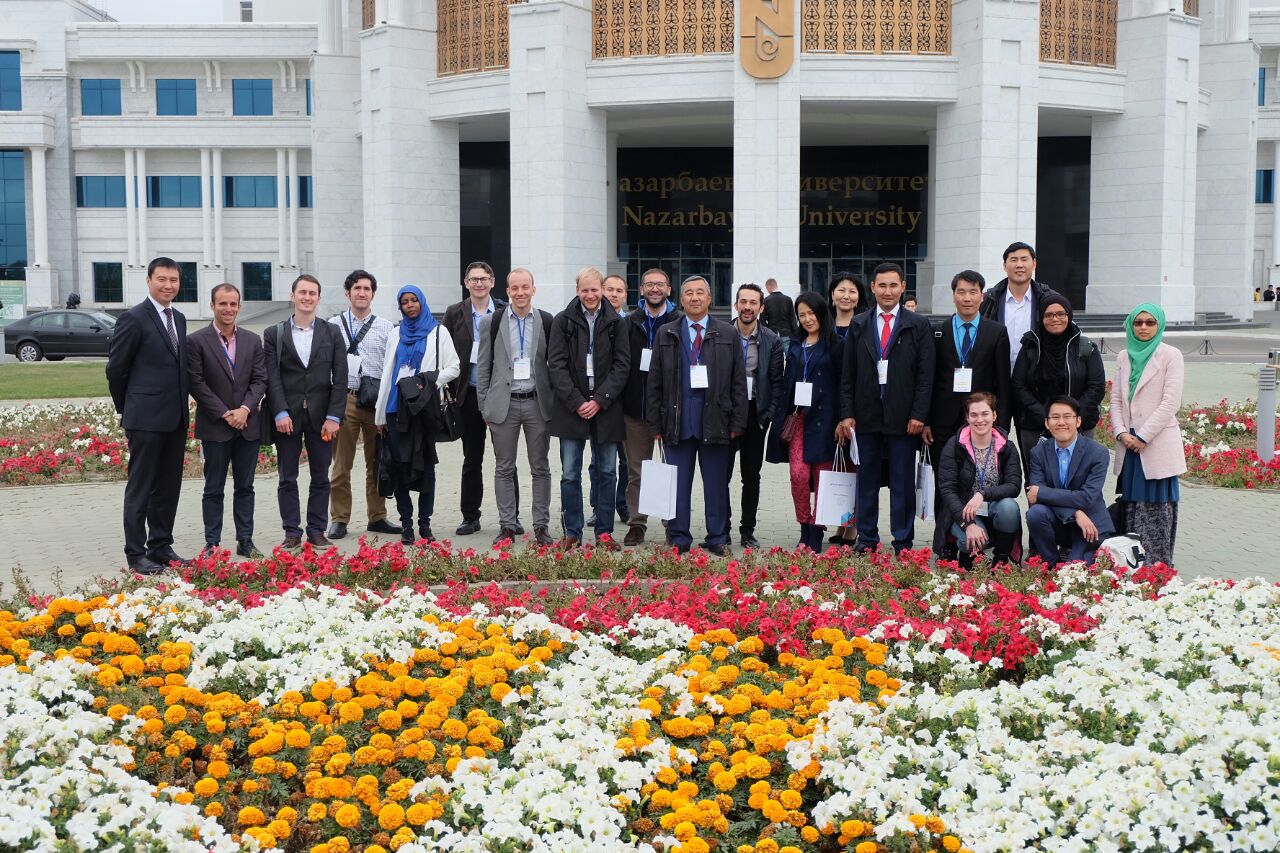 On September 26-29 2016, the National Laboratory Astana hosted a 3-days workshop entitled Low-Carbon Energy Future: Efficient Management of Resources at Nazarbayev University, Astana, Kazakhstan. The workshop was funded under the Newton – Al-Farabi Partnership Programme. The workshop brought together early career researchers from the UK and Kazakhstan to share their knowledge and experience, exchange ideas and generate future collaborations to promote sustainable energy system research and development in Kazakhstan. The workshop also aims to reduce the gap between scientific findings and industrial implementation and recognise how science and business can collaborate collectively in the field of energy.
The 40 selected participants consist of early career academics from Cranfield University, University of Surrey, University of Oxford, Imperial College London, National Laboratory Astana and International Information Technology University of Kazakhstan to mention a few amongst many and also industrial experts from several well-known companies in Kazakhstan.
The workshop began with an official opening note from Dr Kanatt Baigarin, the Vice President of Nazarbayev University, followed by a series of keynote lectures, and oral and poster presentations. In the opening note, Dr Baigarin welcomed all the early career researchers and scientists present at the workshop. He on behalf of Nazarbayev University was very honoured to be chosen to host such a high profile workshop which was considered as a stepping stone and starting point to a low carbon energy future in Kazakhstan. He added that the government were committed to reduce the national carbon emission by integrating renewable energy resources in the energy mix. More focus was given to decarbonise the electricity and heating supply systems due to their highest emission reduction potential. Renewable energy resources currently contribute to only 0.02% of Kazakhstan's energy mix and include solar and hydro due to the country's geographic location and natural landscape. He optimistically expects that in the near future the government will consider a wider range of technologies like biogas extraction from anaerobic digestion and carbon capture and storage (CCS).
The first keynote lecture presented by Miss Aiymgul Kerimray, a researcher from the National Laboratory Astana attracted the participants' interest by a full time series statistics of national energy profile and the main barriers that hinder the penetration of low carbon energy technology in the country. She pointed out lack of institutional support and technological expertise amongst the constraints that need to be addressed immediately. She argued that the Intended Nationally Determined Contributions (INDC) target to reduce greenhouse gas (GHG) emissions by 15% below 1990 levels by 2030 set by the government is rather ambitious and needs urgent action to implement specific pathways.
Dr Beatriz Fidalgo from Cranfield University in her keynote lecture has opened a new chapter of Kazakhstan's transition towards low carbon energy pathway by highlighting the potential spectrum of biorefinery to produce marketable products and energy. She emphasized more on how this sector can increase the contribution of renewable energy in the energy mix and help to tackle interconnected grand societal challenges like ensuring security of healthy food, reducing dependency on fossil fuels, mitigating climate change and creating jobs opportunities.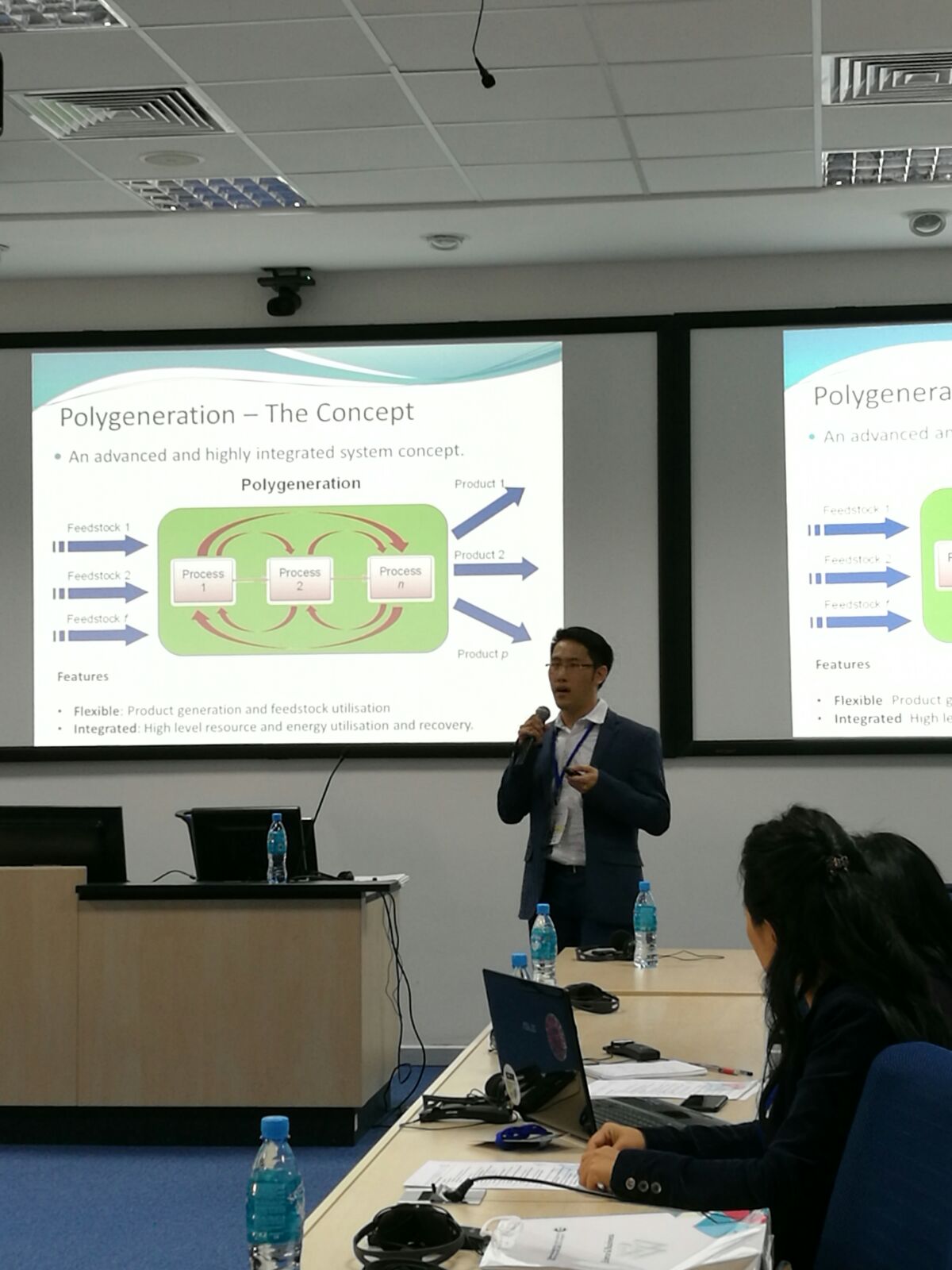 Dr Kok Siew Ng, a Research Fellow at the University of Surrey, who won the Best Presenter Award amongst all, in his presentation elaborated on how a systematic design and integration strategy could be adopted to create more resilient and sustainable energy system. Nevertheless, this could be a very challenging long process and require intensive data inventory. He also introduced the polygeneration concept which means simultaneous generation of four or more energy products in a single integrated process. He also stressed on the importance of inclusion of 3E assessment (energy, economy and environment) for evaluating the feasibility of a prospective system.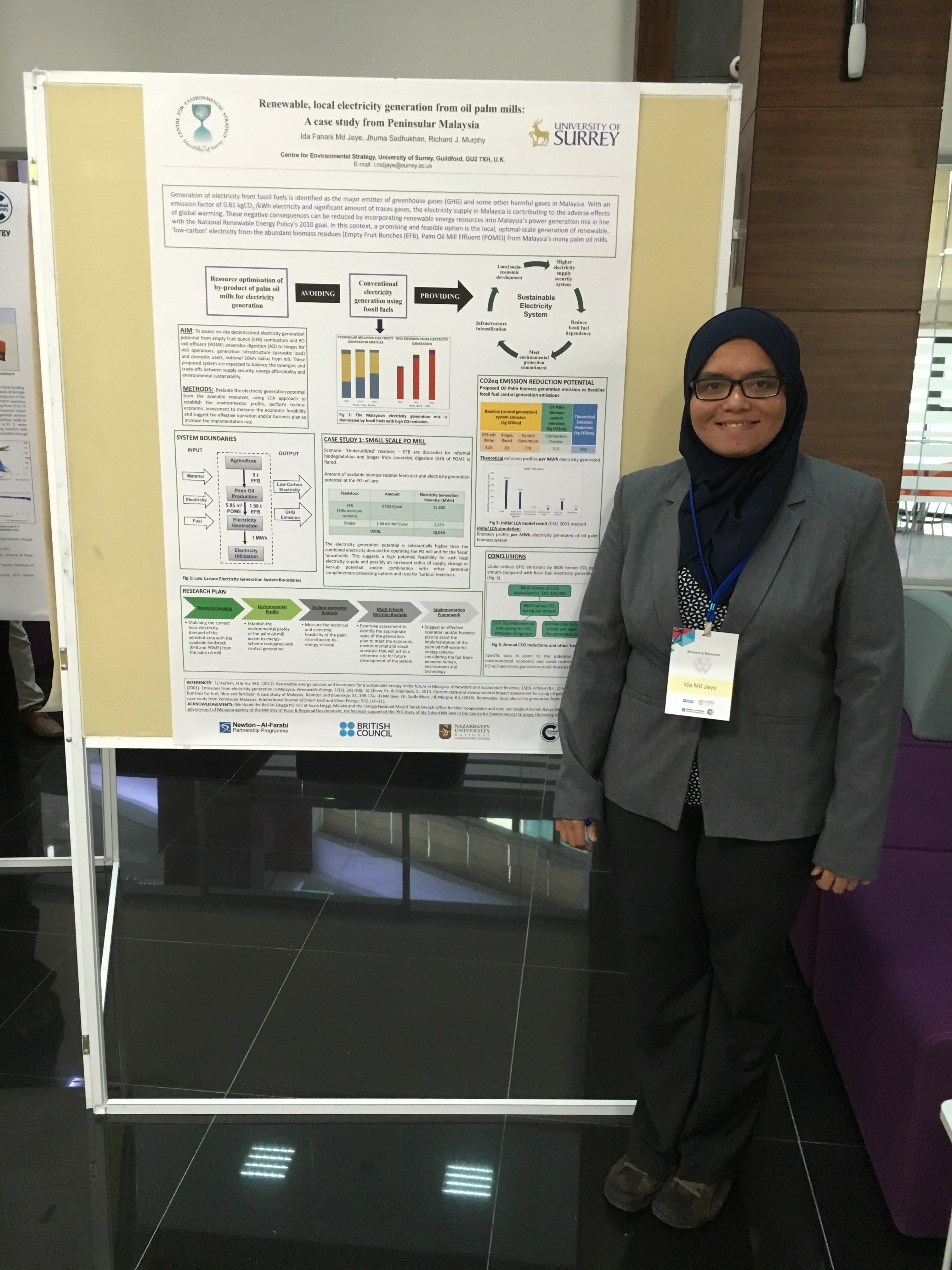 Using the concept of systematic design and integration in cogeneration of electricity and heat from agricultural waste, Ida Fahani, another researcher from the University of Surrey, during her poster presentation, showed technical viability of the proposed system with deliberation of financial and non-financial benefits. She received encouraging feedbacks and responses from the audiences who considered simple technology with strong techno-economic justification would have higher implementation chances into the current business canvas.

On the second day of the workshop, the participants got the opportunity to interact and discuss more intensively during group project development activities. They came up with business proposals on five selected topics, biomass, micro grid, oil and petroleum, process optimisation and low carbon building. These topics were chosen based on the participants' expertise, background, technology trends and local relevance. This allowed the proliferation of more ideas and promotion of future collaboration opportunities. Out of five business proposals presented, retrofitting of conventional municipal solid waste management system by integrating biogas generation option for district heating and electricity generation applications received a positive response from the government representative personnel.
This workshop, broadcast on the national TV channel, has been considered to be an effective platform to appreciate a huge potential of renewable and low carbon energy in Kazakhstan. Such partnerships can bring a considerable shift in their energy research portfolio, which is primarily focused on fossil fuels. The impact of the fossil fuel utilisation is not only significant with respect to global warming potential, but also severe health problems like bronchitis caused by the use of low quality coal in rural areas. The workshop unlocks many research opportunities abound to be explored in the journey of decarbonising the energy system in Kazakhstan and worldwide.
Categories: Research news, Events, New publications